Blog
You won't believe what happens when you make a booking to stay at Montville Mountain Inn directly through our website (instead of with a third party online booking website)......




Well maybe you will, but I'm sure you will be surprised at the very least at these …
10 reasons to book direct with us and not on an online booking platform.
You will be communicating directly with the owners of the business (real people who have the best interest of you and the business as the priority) and not just a third party online booking platform.

You won't be charged a cent until you arrive and check–in.

When you book directly (either over the phone or on our website at (www.montvilleinn.com.au) you will immediately receive a very friendly confirmation letter setting out all the details of your upcoming visit with us.

You can make changes to your booking easily with a phone call or email. If you book through an online booking platform and you want to make changes or a cancellation, then you have to follow their strict rules and regulations and do that through their website.

Three days before you arrive we will send you a pre-stay letter which lets you know all the important stuff about your stay including, check in and out times, what to do if you are going to arrive late, breakfast in bed menu and information and video links on things to do in Montville (eg Kondalilla Falls).

We can arrange any special requirements for you. (eg cot, extra bedding etc).

We will txt you if your room is available early and arrange a late check out if possible.

You can email or phone us to book the bbq and pergola area or tennis court to secure the time that suits you.

We can book a table for you next door at the Montville Cafe Bar and Grill so your dinner plans are all sorted before you arrive.

You can pre-order our amazing value $10 breakfast in bed deal and then brekky is sorted too!
So next time you or someone you know is coming to Montville Mountain Inn Resort, please make your booking through our website or call us direct on 07 5442 9499.
---




So many people I speak to when I am on the Sunny Coast or visiting Brisbane tell me "I haven't been to Montville for years (ages, long time, or ever!!!)".
That's incredible to hear because Montville is so close and so unique and there is so much to see and do. Now I know you hear that all the time, but trust me, it is worth the drive.
Montville is literally 30 minutes from the Sunshine Coast (it takes longer than that to get from Caloundra to Noosa). Brisbanites can reach our beautiful village in just over an hour from north Brisbane. (Some of you would take longer to get to work each day).
And it's not just the destination that is worth the drive, the scenery and views on the way are spectacular. Whether you come through Landsborough or Mapleton you are in for a very beautiful trip.
Once you reach Montville and have seen the views of Lake Baroon, the coastline from Noosa to Caloundra and the Glass House Mountains you will find our gorgeous quaint little village.
There are over 100 specialty retail shops, cafes, restaurants, art galleries, places to stay, historical buildings and craft shops along our 1km main street (which is actually called Main Street!)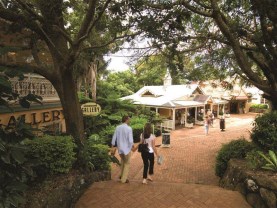 I love walking around our Village when it is full of visitors. The atmosphere is magical. There are people sitting in cafes overlooking the mountains and the ocean, families checking out the unique puzzle and game shops, kids watching candy being made, there are live performers at the numerous restaurants where people are enjoying their lunch, and like me, there are people just wandering and soaking up the atmosphere. There is a whole lot more to see (probably too much for one day) and you can find out about some of those things in our other posts.
I'm looking forward to seeing you in Montville very soon. Please call in and say hi to us (Lyle, Leanne and Sue) at Montville Mountain Inn when you are next in town.
For lots of info, videos and pics check us out at:
Website: http://www.montvilleinn.com.au/things-to-do-in-montville/
Facebook: https://www.facebook.com/MontvilleMountainInn/
Pinterest: https://au.pinterest.com/montvilleinn/
Instragram: https://www.instagram.com/montvillemountaininn/
Cheers,
Leanne
Montville Mountain Inn Resort .... where you come for a visit and take home memories

---




I think I speak for most mums out there – well at least some of them, and because I am a mum and I have a mum, I have had a few years of experience in the Mother's Day department.
I just want to let you know that us mums just want to know our families love us and hopefully can spend some time with us on Mother's Day.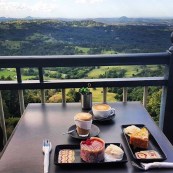 Of course we always say "I don't want anything for Mother's day", but I've got a few different ideas that I'm sure your mum (and mine) will love.
A day out in Montville. Remember we are only a bit over an hour from Brisbane and only 30 minutes from the Sunshine Coast. You could bring mum up for a lovely drive, take her out to lunch at any of our restaurants or cafes and then let her do a spot of shopping and enjoy the atmosphere of Main Street. (You might need to book for lunch though).
A completely unique gift from one of Montville's quaint and quirky shops or galleries. Trust me, you will have much more fun shopping up here and so much more to choose from. There are body products, candles, books, clothes, shoes, jewellery, craft, art, leather goods, home decor items, hats, scarves, furniture, chocolates, fudge, cuckoo clocks, puzzles, games, opals, kitchen wares (although not really something I would want) and soooo much more.
Or what about a gift voucher for a night or two, staying with us at Montville Mountain Inn Resort. You can contact us on 07 5442 9499 to purchase your gift voucher which we can send out to you, or can of course be collected. We now offer "Breakfast In Bed", and what mum wouldn't enjoy that!
I know it is cliché, but show mum you love her with a special and unique gift, or a day out, or a night or two away in Magical Montville.
Oh and by the way, if my kids are reading this, I particularly like the Espresso and Hokey Pokey Fudge!
For lots of info, videos and pics check us out at:
Website: http://www.montvilleinn.com.au/things-to-do-in-montville/
Facebook: https://www.facebook.com/MontvilleMountainInn/
Pinterest: https://au.pinterest.com/montvilleinn/
Instragram: https://www.instagram.com/montvillemountaininn/
Cheers,
Leanne
Montville Mountain Inn Resort .... where you come for a visit and take home memories
---
This is my favourite place in Montville (besides Montville Mountain Inn Resort of course!)




Russell Family Park is such an ordinary name (sorry Russell Family J) for one of the most beautiful spots in the whole hinterland. That is a big claim I know, but I have walked around this park so many times and it never gets boring and I see something amazing and beautiful each time. Every single time I go there I take a whole bunch of photos. (Check out the links at the bottom of this post to see some of the really good ones).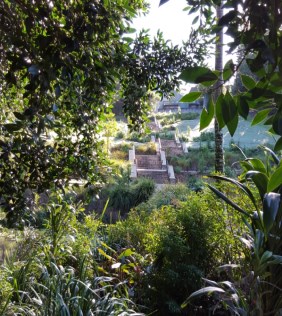 I walk around the park (at a pretty good pace – I think) for my morning exercise, but you can certainly just wander slowly and take in the lovely scenery. You will see two spring-fed ponds surrounded by lush vegetation. There are always water birds on the ponds including ducks, which are so cute. Lovely water lilies grow in the ponds and on a still day, it is perfect opportunity to take some awesome pics with reflections on the water.
The track is 600m around and has wheelchair and pram friendly paths, as well as some serious stairs for the fitness conscious.
There are some covered picnic areas which have tables and chairs and also gas barbecues. Green grass surrounds the barbecue areas and these areas are the perfect spot for your picnic blanket. A fun kids' playground and public toilets complete this great outdoor spot.
Russell Family Park can be accessed on foot from the main street, or you can enter from the car park which you drive into at the southern end of Montville (near the Tourist Information Centre).
Don't take my word for it (because I'm not doing it justice), come and check out Russell Family Park for yourself. You won't be disappointed.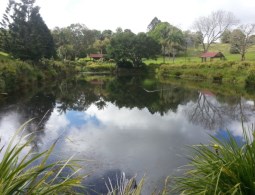 For lots of info, videos and pics check us out at:
Website: http://www.montvilleinn.com.au/things-to-do-in-montville/
Facebook: https://www.facebook.com/MontvilleMountainInn/
Pinterest: https://au.pinterest.com/montvilleinn/
Instragram: https://www.instagram.com/montvillemountaininn/
Cheers,
Leanne
Montville Mountain Inn Resort .... where you come for a visit and take home memories
---
Three (or four) things you should know before you come to Montville




Arrive early. Montville is such a great place to spend time and we receive lots of visitors every day and especially on weekends. Parking can sometimes be hard to find, but not if you arrive before the masses. Usually up to 10am you can find a nice shady park quickly and easily. (Of course if you are staying with us at Montville Mountain Inn Resort you get free off street parking!)
Wear comfortable shoes. You will want to see everything and that means you will be wandering Montville's main street for a few hours.
Bring the whole family (and the neighbours if you have room). There is something for everyone in Montville. There are lollies, toys and puzzles and playgrounds for kids. There are shoe shops, fashion stores, gifts, craft and jewellery for mum. For dad there is menswear, funny and unusual gift wares, and even a men's crèche (at the local pub). Plus there are art galleries, restaurants and cafes ..........
Ok, I said three things, but thought I would add this one. Most places close down around 4pm. There are a few that stay open until 5pm, but don't leave your shopping or afternoon coffee until too late or you might just miss out.
Until next time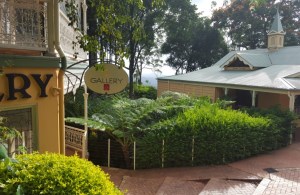 For lots of info, videos and pics check us out at:
Website: http://www.montvilleinn.com.au/things-to-do-in-montville/
Facebook: https://www.facebook.com/MontvilleMountainInn/
Pinterest: https://au.pinterest.com/montvilleinn/
Instragram: https://www.instagram.com/montvillemountaininn/
Cheers,
Leanne
Montville Mountain Inn Resort .... where you come for a visit and take home memories
---




When you arrive home and are unpacking and realise that you have left things behind at Montville Mountain Inn
Resort, then the best thing to do is to call us straight away so we can check our lost property and organise to have the things sent back to you asap. Of course if we find something of any value we will try and contact you as soon as we can. Just so you know, and so you remember to check on your next trip away, here are ..........
The top 5 things that guests leave behind:
By far the most left items are ....... phone chargers. People plug them in all over the rooms, but the ones that are next to the beds are generally the ones we find after guests have gone.
Clothes are left in cupboards quite often, so it's always a good idea to check all cupboards and drawers before you leave.
Drinks and food are often left in the bar fridges. Sometimes this is on purpose as people don't want to take it with them, but sometimes there are items that would have been really yummy to eat on the trip home. Once again, remember to check the fridge before you walk out the door.
Bathroom items, especially shampoo and conditioner are a popular product that our guests leave in the shower. That can be really annoying when you realise the next time you go to wash your hair and your shampoo and conditioner didn't make the trip home with you.
Jewellery has a habit of being missed in the packing to go home because it is quite small and is sometimes left under pieces of paper etc.
Please take the time to have a good look around before you leave (in other words a mummy's look) so you can make sure that you take home everything that belongs to you.
---
What is the number one thing to do in Montville as rated by Tripadvisor?




Well it is the same place that we get asked about the most ........ and that is Kondalilla Falls.
I'm not going to go on and on about how spectacular the scenery is and how amazing the walk to Picnic Creek, the rock pool and the bottom of the falls are, because you can read about that anywhere (but mind you it is absolutely amazing). What I'd like to do here is give you a quick summary of what you can expect on each of the walks.
There are four walks that start on the same path from the picnic area near the car park. The easiest, but my no means, the least spectacular is the Picnic Creek Circuit. This is about 1.7km and is an easy walk for all fitness levels. There is some beautiful rainforest, a picturesque bridge over a babbling brook and a little water fall. Very nice, very easy and well worth doing.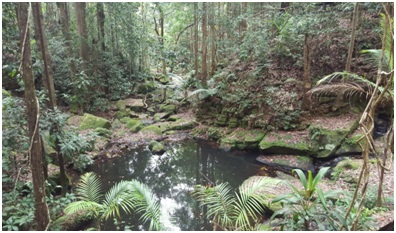 If you continue on the path you will come across another track that leads down to the bottom of the falls. You won't miss it because of the steep steps you will see. You can take that path or continue on the original one for about 300m and that will take you down to the rock pool. The rock pool has awesome views to the mountains. It is a great picnic spot and a very popular swimming hole. You can swim up under the waterfall. You take the same path back to the car park.
If you decide to take the decent down the 150 steps you definitely won't be disappointed (and you won't miss out on the rock pool because you complete the circuit by passing it on your way back). You will have full views of the 90m waterfall and when you reach the bottom, you will see gigantic moss covered boulders and towering trees reaching toward the sun. It feels like you are a million miles away from everywhere. This track is 4.7km in length.
Follow the track which takes you across the bridge and up the other side of the escarpment. It is about 1.5km to the rock pool from here. You will need a medium level of fitness to complete this circuit.
Not far from the bottom of the falls and on your way back to the rock pool you will see a fork in the track. The one that forks off is part of the great walk and it is another 11km from here to Baroon Pocket Dam lookout. This is a one way track (you will need to walk all the way back or get someone to pick you up at the other end).
---




Finally, a growers' market that lives up to its name.
Every 2nd Saturday of the month the Montville Growers and Makers Market comes to town.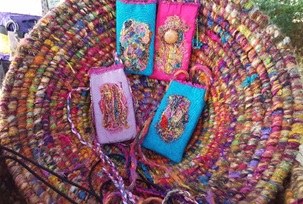 You can tell it is market day because early in the morning the activity starts across the road under the huge fig trees. People are setting up their areas with all their home grown and home-made goodies.
I had a lovely time wandering around this morning checking out the produce and saying hello to a lot of the stall owners.
It is a truly unique market – and not too big that you get overwhelmed by everything on offer.
I saw lots of organic fruit and vegies at such cheap prices (if you think eating healthy is expensive then you haven't been to these markets).
I met Di who was walking around offering yummy morsels of food to try from the Maleny Pie Guy. I had a chat to Trish who has only been crocheting since her mum died a few years ago and now she makes the most intricate pieces. She shares a stall with Anne who has Artworks in Clay and she uses some of Trish's designs in her pottery. Just stunning.
There is no shortage of yummy food to buy as well. The markets are well known for their pancake breakfasts with seasonal fruit in the sunny community hall. Also in the hall the local school is selling its produce, along with other stalls offering clothes, honey, jams, chutneys and lots of other products.
Outside the hall I met Sally and her friend making pizzas at the outdoor pizza oven. They are raising money for the year 5 and 6 kids from Montville Primary school who are heading off on an excursion to Canberra next year.
Allan was the next on my chatty walk. He grows and sells Bunya Pine trees. He gave me some information about how he starting growing these Queensland gems. It was certainly a long and difficult process (involving outsmarting lots of bush rats).
Right next to Allan I spotted a very pretty stall full of bright colours. Pauline Amor is a textile artist and she makes stunning baskets, and beaded products. She runs really cheap beading and basket making courses as well.
Then I spotted some gorgeous tea cosies. I love tea cosies because they remind me of my nana who always had one on her teapot. After that I saw yummy bananas, organic nuts, fresh seafood, hay bales for sale and the whole time listening to two guys singing, playing their guitars and banjos.
There are a few stalls selling plants and seedlings. Lovely healthy plants in hanging pots and some really cute cacti as well. Trish had an enormous range of cactus from little single plants to pots full of different varieties.
To finish my lovely explorative walk around the markets I had one of the nicest coffees I've had in a long time. Fair trade organic coffee ….. delicious.
So now you have another reason to visit our magic mountain.
---